Even though Christmas is officially in our rear-view mirrors and V-Day is 2.5 weeks away, giving season is still upon us. If you're anything like me, you attract Aquarius friends like nectar attracts bees. Since I'm thick in the throes of the birthday gift hunt, I'd like to share a few of the methods to my personal gift-giving madness:
1. Take a hint.
We all have people in our lives that we categorize as "impossible to shop for." While sometimes that title is well-earned, in many cases, it's a mislabel rooted in our own inability to keep our eyes and ears peeled. Open forum conversation is a blessing of the digital age: 8 times out of 10, if your gift recipient is an active social media user, they've likely mentioned at least one item on their wish list at some point. Twitter and Snapchat are my favorite gifting cheat codes. You thought I wasn't going to screenshot that jacket you said you wanted 4 weeks and 2 days ago just so that I could buy it and surprise you with it for your birthday or the next gifting holiday - whichever comes first.
2. Keep the customer in mind.
Unless you're buying a gift for yourself (which I encourage, can't nobody treat you like you treat you), your personal affinity for the item you're gifting shouldn't be paramount. So often I've seen friends and family steer themselves down the wrong path because they thought they were gifting something chic or useful. Sure, the item may have been valuable to someone, somewhere. But, if you're gifting a pair of Loubotins to someone who enjoys DIY projects, weekends at home, and building their loungewear collection, you just might be missing the mark. Quality over quantity (including quantity spent!). Just because you wouldn't use something or wear something doesn't mean it isn't the perfect gift for your loved one.
3. Ask and you shall receive.
To some extent, this should be #1 on this list. It's not because I personally love surprising people with things they never knew, or forgot, that they needed or wanted. However, playing the guessing game isn't always worth the stress ulcer. Most people have something they need or want resting in their subconscious at any given time, even if it's not something we love to gift (like a bill payment, or a refill on that expensive deodorant they ran out of). There are certainly folks that refuse to offer you any gift-giving guidance for them no matter how many times you ask - and if you're one of those people and you're reading this, throw your loved ones a bone! Even if it's just a fresh pack of white socks or a re-up on the Dove soap you use every day. If they're asking, it's because they truly want to know.
4. When in doubt, browse it out.
Most popular retailers have a "Gifts under $xx" section on their sites. I personally feel like these sections are a bit slept on. If you find yourself faced with a retailer that doesn't host one of these lists, to some extent you can devise your own. You might know someone is into gadgets or you might know that someone loves supporting black-owned businesses, but you might not know exactly which item at a given retailer that they would like and that they don't already own. If you reach that point, walk into the store (or pull up the website), recite "eeny, meeny, miny, mo" and go with whatever you land on.
I'm only half-kidding. If you have a good base to start, chances are they'll be okay with, if not in love with, the product you land on. This past Christmas, I spent weeks brainstorming gifts for my brother. I ended up walking into the Apple store and walking around until I found something that I knew he'd probably be intrigued by at the very least (mindfulness and activity tracker). He ended up loving it and I never would've known that item even existed if I hadn't adopted the "walk in and wing it" approach.
5. Keep it under.
Again, quality over quantity spent. Everyone is not nostalgic by nature, so I can't offer blanket advice that if you frame a picture of your best friend and her dog she'll love it. She might very well hate it. But gift-giving should be an exercise that makes you as happy as the receiver of the gift, and that joy is often tainted when we overspend on a gift no matter how much we love someone. I can't reiterate this enough: buying someone their favorite chocolate bar for $2 wrapped in reasons why you're happy they were born or developing a video compilation of all of the fun and/or crazy times that you've had with a person cost you less and earn you more peace of mind financially than overspending ever will.
"Love the giver more than the gift."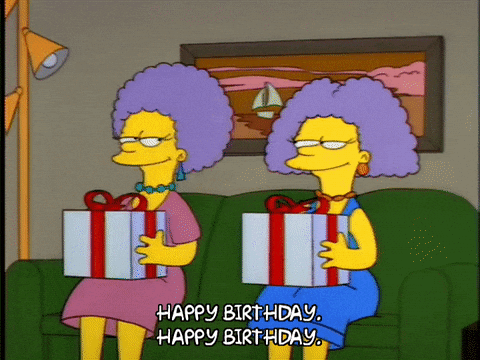 Let's talk about gift-giving as you've experienced it: what's the best gift that you've received? What's the best gift that you've ever received?
Chat with me about it in the comments below or under my latest Instagram post!