Talk (show) about longevity. Though I will admit that I don't fall into the group of folks that grew up watching late night talk shows with my parents, I'm fascinated (as of 4 days ago) by the extensive history of talk shows. This past Sunday, I had the privilege of attending a live taping of "Watch What Happens Live with Andy Cohen." So fitting that I got to see Andy, an executive producer of The Real Housewives franchise, chit-chat with Shereé Whitfield of the Real Housewives of Atlanta. Whether you're a talk show fanatic or you've never heard of Andy, Conan, Jay, Oprah, Whoopie, David, Steve or any of their fellow talk show hosts, there a few things you might find interesting about my experience.
"Oh, this is getting juicy..."
1. As seen on tv.
Shereé is so beautiful! I feel like I often wonder what reality TV stars will look like in real life. Will they look like they're living their life in HD (I've heard this said of Tyra Banks)? Will they look exactly like they do when they're on a yacht with their girls or sitting perched during a reunion show? Can't tell you why I was expecting such staunch differences, but everything was as it generally seems behind the screen.
2. Andy does not play.
"It ain't safe, it ain't safe" is the name of the game when it comes to Andy Cohen's inquisition style. I think the best part of watching the live taping was seeing the truly astonished reactions of the guests as they tried to (or tried to pretend that they were trying to) drum up a response to the questions asked. Additionally, Andy's line of questioning toes the perfect line of "spill a little tea, but leave them wanting more info."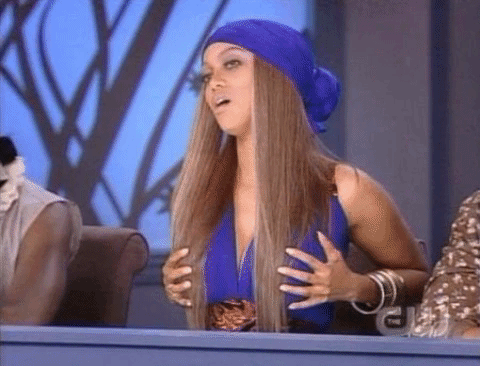 3. It really was live.
We paused for commercial breaks and everything. We got to see the makeup touch-ups that happen when the show cuts to commercial and we got to obnoxiously try to capture those moments on our smartphones as the guests looked on hesitantly. Yes, there was a teleprompter and yes, there were crew members on set who prompted us to cheer our hardest at various intervals, however, it wasn't as unnatural as you might think. I'm not only impressed by Andy's ability to switch from teleprompt to improv to conversation card and back, but also by the crew's ability to juggle us and the guests with ease.
4. Smaller is sometimes better.
The audience of "WWHL" was pretty tiny compared to shows like "The Ellen Show" or "The Wendy Williams Show." There were only about 3 rows of seats with about 10 people per row, so the setup made for a cozy environment and a nice, relatively low-key vibe during the cocktail hour before the show and the show itself. In hindsight, I'm glad that my first talk show experience involved a smaller audience because it made me feel like I was legitimately a part of the conversation myself.
If you know me, you know that I love variety and I love firsts. So, a colossal, sisterly thank you to Nicole for ensuring that my birthday ended on a much different note than it began and for introducing me to a true Bravo experience! Now, whenever I watch a RHOA reunion special, I'll essentially be watching my best friend, Andy, run the show.